Innovative laser solutions for surface treatment and industrial cleaning techniques of tomorrow
With the combination of laser process technology, automation, software and optic technology, powerful integrated solutions for several product lines have been realized
We are the official agent for the Jetlaser and Scanywhere in The Netherlands
Products of 4JET Technologies GmbH in Germany.
25 years ago, 4JET (Jet Lasersysteme) developed the world's first mobile Jetlaser.
A tremendous development has taken place since then.
We can speak of real German quality.
The Jetlaser is a special developed manual laser cleaning system available in different power levels, ranging from 200W, 500W and 1000W
Laserpower is extremely suitable for manual use or integration with a robot
The Jetlaser integrated with a robot and the world's highest power cleaning lasers, can also be used for fast workflow solutions resulting in many square meters of cleaning capacity per hour
Typical laser cleaning systems work with 100W to 2000W average laser power and yield cleaning speeds of 10cm2/s to 100cm2/s
The benefits of cleaning with the Jetlaser are:
Touchless

Dry

Non-abrasive

Compact

Mobile
Suitable for the following applications:
Rubber, plastics, food and composite mold-cleaning

Rust/oxide removal from metals

Cleaning before or after welding

Cathodic E-coating and paint removal

Surface preparation before coating or bonding techniques
The Jetlaser has a quick return on investment:
Less labor cost

Less preparation and post-processing

Reduced production down time

Cleaning possible without disassembly

Low running cost of equipment

Compact, less square meters needed

Energy efficient

No central compressed air installation needed

No blasting and cleaning media

No disposal/recycling of blasting and cleaning media

No wear and tear of the material/product

Low maintenance
Molds must be cleaned on a regular basis.
Very important is that the structure of the surface of the mold does not change and the original material will not be damaged.
Cleaning of molds:
Large injection molds

Removal of lubricans, grease and particles of  dirt

No disassambly, in the production area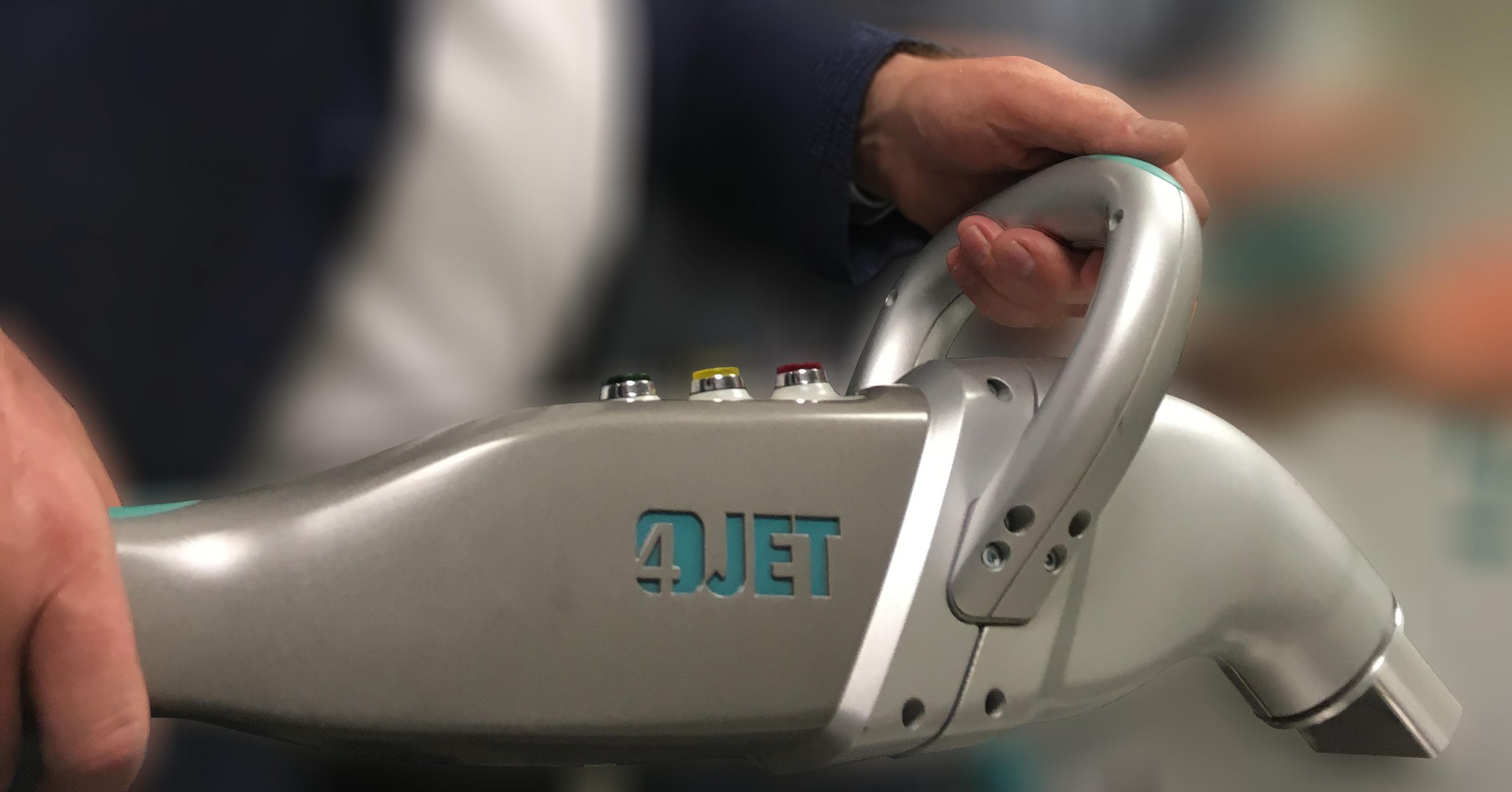 The robot system for laser surface treatment
The Scanywhere, the robot system that can be integrated in your production line.
For cleaning, surface preparation, structuring and bonding preparation.
The benefits of the Scanywhere are:
Touchless

Dry

Accurate

Consistent
For processing complex 3D shaped surfaces it makes perfect sense to combine laser technology and the flexibility and repeatability of industrial robots.
The robot allows to move the laser head
over the surface to be processed following
a pre-programmed motion path.
Core of any Scanywhere solution is a powerful software engine that enables to quickly create an integrated processing recipe for robot motion,
laser scan head operation and laser source controls with only a few mouseclicks.
The Scanywhere software then automatically assures the proper standoff-distance to maintain the right laser focus
and assures that the chosen pulse overlap and other laser settings are kept.
3 Scanywhere solutions:
Scanywhere Engine "only the brain" software and the PC-controller:
This solution is ideal for line integrators designing multi-process manufacturing solutions, with laser know-how and want to automate the surface treatment process.
Scanywhere integration "brain and hands":
Besides the controls, 4JET supply robot, lasersource and optical technology including tailored laser settings for your application, tried and tested in the laboratory of 4JET.

For integrators with automation experience who need to integrate a laser solution but without specific experience with the laser technique itself.
Scanywhere Turnkey "the complete solution":
A fully automated, ready-to-use class 1 laser system, including material handling, a turnkey installation.

For OEM customers who expect fast results, hands-off, within budget and on schedule.